About Principal
Dr. P. Mallikarjuna Reddy has completed his A.M.I.E. in Mechanical Engineering in 1986 from The Institution of Engineers (INDIA), Kolkata. He completed his M.E. (R & A/c) in 1991 from Coimbatore Institute of Technology, Coimbatore and obtained his PhD from JNTU, Hyderabad in 2006.He has 40 publications to his credit in various National and International Journals and Conferences. He has attended 19 Short Term Programs at different colleges across the country. He has attended three days "Mission10X Academic Leadership Workshop" organized by WIPRO Technologies at Hyderabad from June 27th – 29th 2011. Guided 2 Research scholars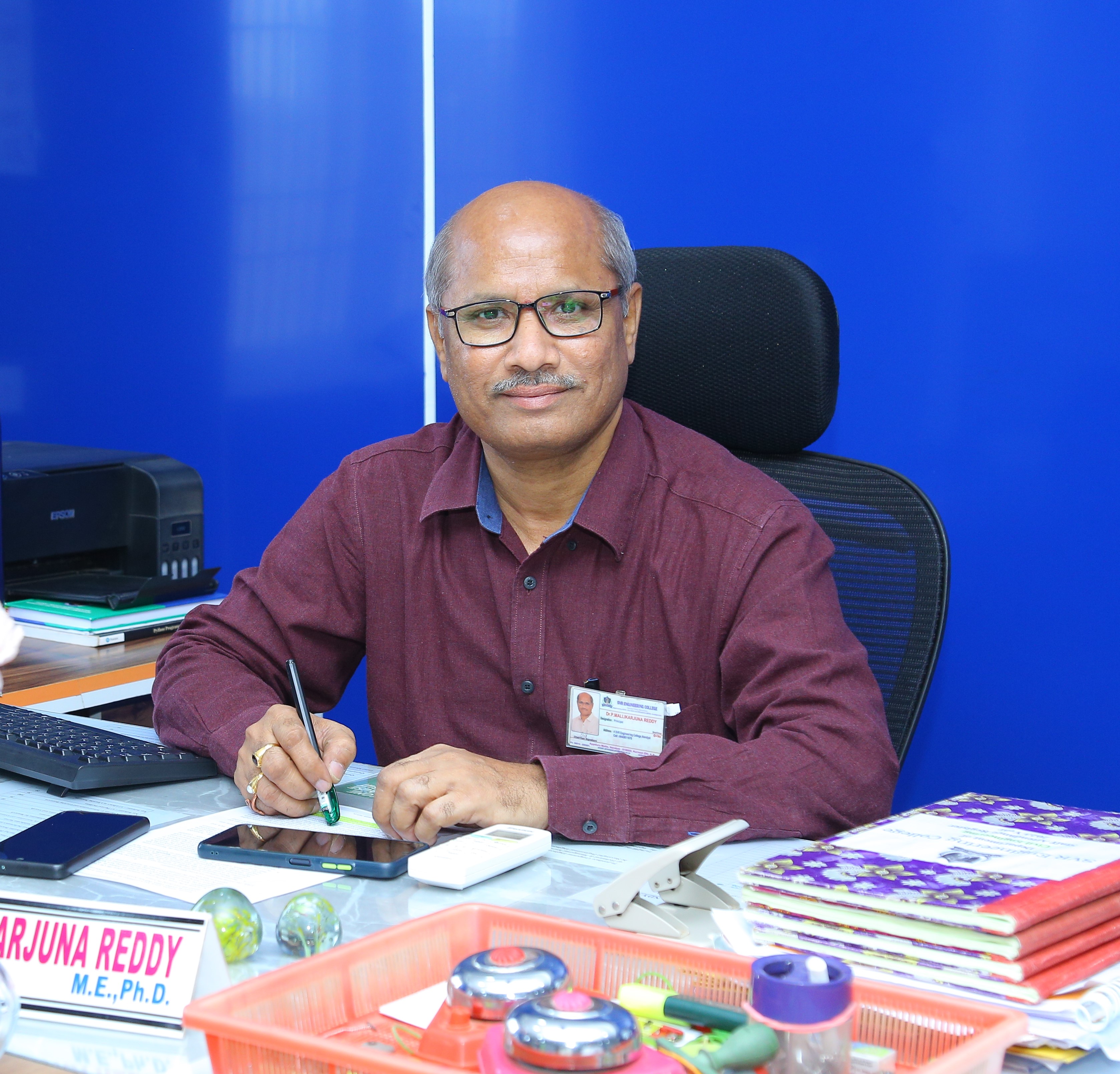 He is Life member of Indian Society for Technical Education, Indian Society of Heat and Mass Transfer, Indian Society of Mechanical Engineers, International Association of Engineers (IAENG), Kurnool District Technical Forum and Fellow of Institution of Engineers (INDIA).He is the recipient of "Eminent Educationist Award – 2011" from International Institute of Education and Management, New Delhi.His Research Interests are Heat Transfer, I.C. Engines, Refrigeration & Air-Conditioning, CFD and Renewable Energies.

Principal's Message

Welcome to SVR Engineering College!
At SVR Engineering College (SVREC), our vision is "To produce Competent Engineering Graduates & Managers with a strong base of Technical & Managerial Knowledge and the Complementary Skills needed to be Successful Professional Engineers& Managers".Our mission emphasizes students' success as our primary goal.
Our faculty and staff create an environment where you will be challenged academically and where you will have co-curricular and extra-curricular activities that are integral to your journey. You will have learning opportunities, in and out of the classroom, that inspire you to develop the knowledge and resiliency to meet life's challenges. Most importantly, our faculty and staff are committed to assisting you in your effort to ensure that you earn your university degree.
There are many enjoyable activities that make this campus a great place to take admission. Plays and dance performances, musical concerts, technical and art exhibits, lectures and guest speakers are routinely available to you. You can attend or participate in inter-collegiate or club activities throughout the year. At SVREC, there are many clubs, both social and academic, where you can be with other students who share their thoughts, ideas and knowledge.
My staff and I are committed to your academic success and your personal growth during your time at our college.
Best Wishes ....





Dr P.Mallikarjuna Reddy Principal