LATEST NEWS
Welcome To CIVIL Department
Department of Civil Engineering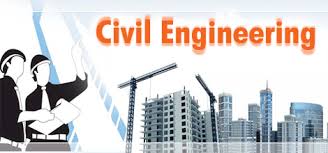 The Civil Engineering Department has been in existence since the academic year 2009-10 with an intake approval of 120 students at present. The Department has got a highly qualified team of faculty members having rich experience within the academia and industry. The Department is committed to provide quality education and produce competent engineers to meet the growing demand for professionals in civil engineering.

The Department has set up state-of-the art laboratories that are on a par with Institutions of repute in different fields of civil engineering. The Department is also offering Consultancy & Testing Services to various government departments and contractors. With the existing facilities, the Department intends to develop itself as a promising consultancy & testing centre in the region and cater to the demands of society.

The Department has always remained in the forefront of innovation and development owing to its R&D initiatives, planning, design, construction and consultancy services. The Department boasts well equipped laboratories with all modern equipment in the specialized areas to meet the needs of students as well as R&D and consultancy works. Testing facilities related to civil engineering are also provided in the laboratories to fulfill the need of industries. The faculty of the Department has expertise in testing & consultancy services in the areas of civil engineering material testing, soil investigation, tests on cement, concrete and highway materials, non-destructive testing of concrete structures, water quality analysis, surveying works, analysis, design and drawing of civil engineering sub structures and super structures, estimation, costing and valuation of proposed and existing structures and third party inspection of civil engineering structures.

The Department invites eminent personalities and academicians from prestigious Institutions and industries to deliver quality lectures to the students frequently and has organized many highly useful workshops which are beneficial to the faculty, students and practicing engineers. The faculty members attend various workshops/conferences/training programmes on a regular basis, which would keep them abreast with the latest happenings and developments occurring in their related fields and upgrade their competencies and skill-sets up to date.


In 1963, Rolex for the first time launched the
rolex replica
Daytona watch, in order to meet the needs of endurance racing drivers and
replica watches
carefully designed. With a reliable speedometer scale outer ring, the highest speed up to 400 km per hour. In the dial on the configuration of
swiss replica watches
the central, minute and second hand; small second hand set at 6 o'clock position; through the central pointer to the timer precision to
replica watches uk
1/8 seconds, 30 minutes and 12 hours timer disk were set at 3 and 9 o'clock position;
CIVIL Quick Links